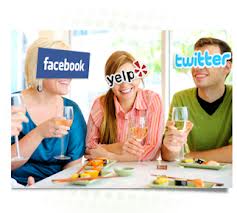 Katy Keim of Ad Age recently wrote an op-ed in which she warned of the fickleness of social media followers.
A customer's love for a brand is nothing close to the unconditional positive regard we give and receive in relationships. The second you slip, deliver a disappointment, stop giving them reasons to engage, or stop acknowledging and rewarding their participation, they'll drop you in a heartbeat.

Today's brand-consumer relationships are not balanced. Make no mistake, the consumer is in control. Never before have consumers been so empowered. Social media today lets customers broadcast their sentiment over brand experiences — good or bad — to enormous audiences.

……..

Today's consumer-brand dynamic is decidedly lacking in many of the characteristics we normally associate with relationships. There is little forgiveness, zero privacy and customer love is 100% conditional. There's no kissing and making up with social customers when you disappoint them. Further, they turn others against you when they go. Fifty-seven percent of social customers say they won't buy any more of a company's products or services after a single negative experience, and 40% say they are also likely to warn others to stay away after a poor experience.  And with social media at their fingertips, they can exercise those inclinations in just 140 little characters.
There is a lot truth to Keim's observations, although I'm not comfortable placing the blame entirely at the feet of social media. Never before have consumers had so many choices. Gone are the days when a trip to the grocery store meant choosing from a handful of brands of toothpaste or laundry detergent. Supermarkets and big box stores have doubled, tripled and quadrupled in size just to keep up with all the product they need to stock – and their selection dwarfs in comparison to what you can buy on Amazon.
Services are no different. In the past, the best even an educated consumer could do was to pick up the Yellow Pages and maybe talk to a few friends and neighbors. Today, we have not only social media, but auction sites and sites like Groupon which offers dramatically discounted coupons for everything from cruises to yoga classes to plumbers. Some of the most savvy shoppers I know refuse to buy anything without a Groupon.
A popular trend in TV reality shows is "extreme couponing," where consumers, generally women, spend countless hours collecting coupons and arranging their shopping schedules around supermarket sales. They often walk away with hundreds of dollars in free groceries. While the wisdom of making buying decisions around coupons can be debated, coupon shopping is not a behavior that leads to brand loyalty.
Consumers are fickle but it doesn't have to be that way. The reality is that consumers don't complain as much as Keim would have us believe. Two years ago, a Spanish company conducted a survey of 90 million reviews – across the review site spectrum. The result was that 60% of reviews were positive and only 12% were negative. The rest were neutral. Granted, if one of my small business clients had only 60% positive reviews, I would consider it something to work on, but those statistics are a good place to start.
Small businesses have a tremendous advantage in the social media world. People are far more likely to post positive reviews and (more importantly) to return to a business if they establish a personal relationship with someone at the business. Recently, one client had a customer who was relatively unhappy with the service but because he had such a great rapport with the owner, he still gave a four star review. The owner, of course, did his part by bending over backwards to rectify the customer's complaints. The customer is now expected to change his review to five stars – the maximum.
A restaurant I frequent knows me by name. Like all businesses, they've made mistakes. There have been times when the food wasn't up to my expectations, but for the most part their food is excellent. I forgive their occasional screw-ups in the same way I forgive the screw-ups of my friends and loved ones – because they feel like friends to me. I doubt I could ever have the same sort of relationship with an Olive Garden or a Red Lobster.
Another example of how less is more when it comes to navigating shrinking brand loyalty is Trader Joe's. While Trader Joe's is far from a small business, they act like a small business. They treat their employees very well. The employees generally stick around long enough to know many of the customers by face, if not by name. A funny thing happens to businesses that treat their employees like numbers – they also treat their customers like numbers or in the case of many big box stores, bits of data.
Trader Joe's also contradicts the idea that consumers want vast amounts of choice. They do have a large variety of goods, but they carry only a limited number of each item. For example, they carry "only" 10 varieties of peanut butter while a supermarket might carry forty. The perception is that Trader Joe's opts for quality at reasonable prices instead of quantity. Sure, they have some products that are really awful, but people have learned to see the bad as an anomaly as they return time and time again for the good.
Big businesses have another disadvantage when it comes to social media – the number of fingers in the Twitter pie. Giving a poorly trained employee the passwords to a company's social media campaign can be disastrous. Last October, an employee at KitchenAid sent out this tweet:
@KitchenAidUSA: "Obamas gma even knew it was going 2 b bad! 'She died 3 days b4 he became president"."??? Wow!" #nbcpolitics
Most (although not all) companies try to stay above the political fray. It seemed that KitchenAid was no exception. They were forced to issue an apology and they said they would fire the employee.
How can this sort of thing happen? I've worked in large marketing departments. Passwords to social media campaigns are not locked in a vault. If a social media manager is busy, that job might be delegated to even an unpaid intern. The same thing could happen in a small company, but typically, only the owner and maybe two other people have those passwords. When employees are more vested (either financially or emotionally) in the success of a company, they are less likely to do something so risky.
Social media, as Keim says, is a double edged sword, but if a small company treats their customers well and responds to negative reviews, they will be in a much better position than their larger competitors. All in all, it's an exciting time to be a small business owner.