Wendy's greatest skill is as a writer. Her content is exceptionally well written, professional, relevant and to the point. She completed her work on time and with little if any need for edits or corrections. She follows direction to a tee, while offering welcome input.
Her web and marketing content express the goals and professionalism of our company. Her blog and newsletter have earned a large following from both inside and out.
Gene Lemay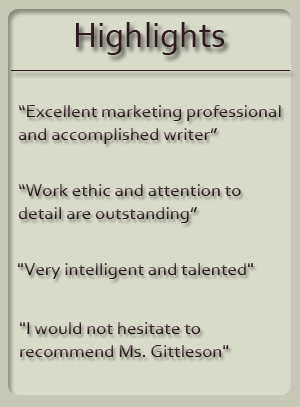 Over the last couple of years I worked with Wendy on a variety of marketing projects. She is an excellent marketing professional and accomplished writer. In addition to writing a number of our brochures and flyers, she started an online blog which has been well-received both internally and externally. In addition, she was involved in several projects for our Digital division, including trade shows and events, lead generation, and other promotional campaigns. Her work ethic and attention to detail are outstanding, and Wendy would be a great addition to any marketing team.
Larry Reynolds
Wendy is a very intelligent and talented writer. I have worked with her for almost 2 years and for that entire period she displayed a high level of professionalism and an excellent work ethic.
Anwar Boldon
Wendy did an excellent job in her writing and marketing position at GRM and was an asset to our organization. She carefully researched out each article she wrote for our organization and as a colleague I found these articles useful and insightful. Wendy was always willing to offer her assistance and had an excellent rapport with not only her colleagues but our clients and other professional organizations.
Mike Barbosa
I have worked with Ms. Gittleson as a creator and editor of content on a wide variety of topics. As an editor she has provide helpful insight on making my communications clearer and more concise. As an editor she has the valuable quality of being able to provide criticism in a supportive manner. As a creator of content Ms. Gittleson works quickly to research and investigate complex subjects that she digests to create output that is interesting and informative. In summary I would not hesitate to recommend Ms. Gittleson for positions that demand rapid collection, interpretation and creation of interesting content for communication and instruction.
Bruce Zeuli.